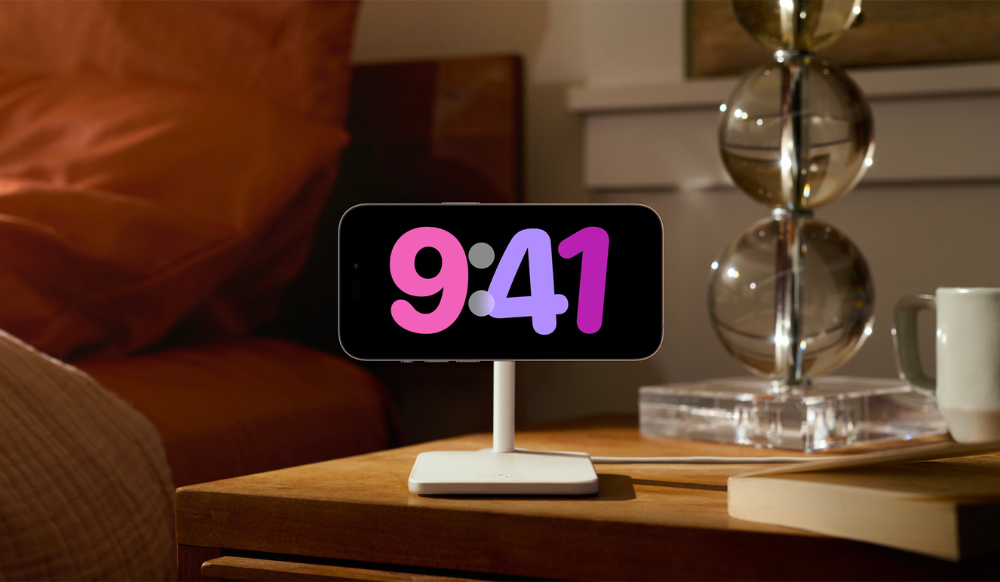 Apple wants to make the iPhone useful even when it is not in use, transforming it into a smart display. Yes, you read it right, the Standby on iOS 17 will turn your iPhone into a sort of smart display, displaying clock, weather and Apple home control, among other things.
When your iPhone is charging, locked and placed horizontally, StandBy will activate automatically. This feature is visible from afar and allows you to customise clock faces, control Apple Home, check the weather, manage music, access app smart stacks, and more. During nighttime, StandBy adjusts the screen to a red tone to avoid causing any disruptions.
StandBy will automatically display relevant information when you need it, like showing your schedule before a meeting, and live activities such as other important events, delivery status, sports scores, and more.
Additionally, it allows you to use Siri hands-free as if you were using a HomePod. You can ask Siri to play music, and the phone will show visual results when you ask it questions.
One can edit widgets in the Standby view, or choose to have a smart stack.
With Standby, you can even turn your iPhone into a digital photo frame, much like Amazon's Echo Show and Google's Nest Hub smart displays. If you place it on a MagSafe charger, StandBy, recall the preferred view, or you can tap the screen to display it.
On the iPhone 14 Pro, it always remains active using the Always-On display. However, you would need to tap on the rest of the iPhones to see the information, since they do not have an always-on display.
While Standby may not be a complete replacement for smart home displays, like Echo Show or Nest Hub, this feature is a valuable addition that transforms your iPhone into a secondary display or a bedside alarm clock at night.